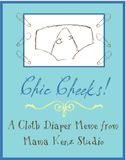 It's
Chic Cheeks
today and today it's all about wipes and wipe solution!
I am no help when it comes to wipe solution because though I have been using cloth wipes, which we love, I have just been using water. Though I have a recipe in the works because of this
article
(also linked up in Mama Kenz post). I'll let you know what we come up with for Daniel's bum! I know you are hanging on the edge of your seat!
~Smile~
I have tried four of the brand name wipes: Fuzzi Bunz, bumGenius, Thirsties and Happy Heiny's. I like them all, they all work fine, but I have to say my favorites are the Thirsties and the Fuzzi Bunz brands. Happy Heiny's work great for a tough job, but they are a little rough. The bumGenius are thin and great for small messes or just a wet diaper. Today I ordered new wipes from a couple of WAHM's. I ordered from
Small Wonders
and
Creative Mama's
and I can't wait to try out these cutie patootie wipes!
Now I am off to the natural food store for the grapeseed oil for the wipe solution!!
Check out
Feed Your Stash Friday
for a chance to win a GroBaby diaper! Did you really think I could have a post anywhere related to cloth diapering and not mention a giveaway???
~~Smile~~