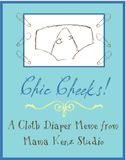 A wonderful mama over
here
has a weekly cloth diapering meme. I love to talk about cloth diapers and this a perfect opportunity! I don't have any pictures because I have lost our camera (hopefully I find it soon), so a description will have to be enough for today.
This week is all about storing your diapers. I am always looking for new ways of organizing, so join in and maybe we can all learn a little something from each other.
Because of being in the moving process, our storing system is a little crazy, so the following is what it was until the packing took over and what it will be when I move. At the new place the changing table will actually be in the kids bathroom and I am really excited about that.
On the top of the changing table I have a small cloth lined basket for our cloth wipes. Right now Daniel and the basket still fit on there, but a couple more inches and it will have to go to the second shelf. I currently only use water on our wipes. Daniel's bum seems to be really sensitive. If anyone out there has a really gentle recipe for wipe solution, feel free to lay it on me.
Second shelf: My current stash is all bumGenius 3.0's One Size Pockets and we have one Happy Heiny (I have a bumwear one size coming in the mail). So after washing and drying, I stuff all the nappies so they are ready to go. I have two large cloth lined baskets and I fold the diaper in half and put them in the basket. Another small basket holds extra wipes, doublers and liners (which I don't use very often).
The bottom shelf will hold our baby towels and wash rags.
That's it. I can't wait to get moved and get everything organized again!
Don't forget to link back to
Mama Kenz Studio
so we can all read of your cloth diapering storage systems.
I can't have a cloth diapering post without mentioning this
great giveaway
.